It's that time of the year again when water temperature is rising ( at least should be rising…), bass are eaten themselves nice and full in preparation for bedding and it all comes with usual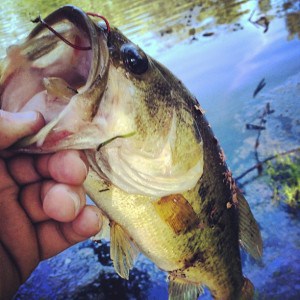 relocation from deep to shallow waters. Rare sight when bass doesn`t care about eating!
Anglers wake up from hibernation, welcome the spring and set their steps to nearest lake or river. Like usual, everyone is looking to catch a female lunker bass.
However, the sad reality is that most of the anglers fail maximize the potential opportunities around and what`s even worse, have failed do to that several years in row. Maybe the most common cause for that is following the same regular advice you have read time and time again from magazines or articles that repeat the same idea every year.
This is exactly the reason why I asked 39 pro anglers and top fishing bloggers this simple question:
"What has been your most unconventional approach around bass spawning time that has helped you to score big time?"
Let`s make this season more successful than ever by seeing what some of the most experienced anglers have to say:
I'd have to say that while I prefer a jig and pig or a drop shot set up on light line for spawning fish, there are always times when you just can't get them to strike… it's time like this where I can see the fish and am able to watch then completely ignore my attack when I reach into the medicine cabinet… I will break off a piece of Alka seltzer just big enough to fit into the slot of a fluke or into a 10″worm and then ease the lure onto the edge of the bed and let it lay… the bubbles that pour out from the lure have historically been enough to drive that lock jaw bass into a frantic attack to get the lure away from the bed… it doesn't always work, and you've got to make sure the cuts you make in your lure are tight enough to hold the seltzer, but when it does work, it's a great story to tell and it's usually with a wise old heavy weighted hog.
Moving slow down the bank while I'm looking is my trick.  This allows me to see fish others miss and sneak up on some that are there, but are just looking around for a place to bed. It's a much stealthier approach.
Also, my Costa Del Mars, plus a spare pair are always on my eyes.
The spawn is the time most anglers look forward to.  When bass hit the shallows in droves, most anglers like to target fish who are actively protecting their beds.  While I agree "sight fishing" is fun, when it comes to tournament fishing, I almost always target fish who are either staging, or bedding in areas I can't see them.  Not all bass spawn at the same time, and not all bedding bass are going to be visible, and fish you can't see will more than likely be more active than fish you can.
When bass are on beds, I like to focus on the most prominent spawning areas of a lake, and then focus on areas where pre-spawn or post-spawn fish might be holding.  I tend to look for the heaviest cover adjacent to spawning flats.  For instance, in a grass filled lake, I like to focus on the thickest matted grass I can find close to suitable spawning bays, and then I will either cover water with a texas-rigged Zman Grass KickerZ, or flip some sort of creature bait, such as a Zman Flappin CrawZ .  Big pre-spawn and post-spawn females like to dig into heavy cover, or deep water.
If I feel like there is a huge wave of spawners on the beds, but the water is too dirty to sight fish, I really like to target areas that I feel the bass would bed in.  Bass like to make their beds next too cover or structure because it helps them protect the bed from more angles.  Things like seawalls, stumps, lay downs, dock posts, and grass lines can be prime examples of areas fish like to make beds.  Depending on where they are bedding, cast a variety of baits that you can keep on the bottom, but still fish more efficiently- remember, you can fish faster when they don't see you, and they more often than not will hit your bait as soon as it appears in their bed.
I believe the "Bluegill" swimbait is the best spawning bait ever made! It has a tremendous visual appeal to bass and has the ability to draw fish from long distances to strike because of its natural look and action. I really like using a six-foot nine inch Medium-Heavy Bass Pro Shops Carbon Lite rod with a BPS Carbon Lite reel, spooled with fifteen-pound Seaguar Red Label Fluorocarbon line.
Some samples I have used include:
Bass-Pro-Shops-XPS-Z9R-Perch-Swimbaits
MattLures-Original-Blue-Gill-Swimbait
I like to target fish deep enough you can't see them. You have to use a Carolina rig or or an Ocho ,something you can fish into the beds and get a reaction strike without being able to see the beds. Not all fish span shallow some spawn in 5 to 7 ft of water.
For Largemouth…I don't target bedding fish, but target gravel/sand transitions in the warmest water, which are usually smaller protected shallow bays with a Northern exposure. I use three approaches in the time leading up to the spawn here in South East Wisconsin.
First, I like to use a texas rigged lizard in a natural color. Bass here are naturally programmed to attack nest robbing tiger salamanders, and pre-spawn fish will simply attack a lizard dragged ever so slowly along the bottom. My trick: I use a weight one size heavier than I should (for depth) to keep solid contact between the rod and the bait. Using the heavier weight also allows you to creep that bait along the bottom with tiny lifts of the rod tip.
Second, I like to use a wacky rig, but in the spring, I hold off on the wacky rig until I start to see small buck males up on nests in the shallowest water. Once this occurs, (when the coves hit about 61 degrees) I'll move out to the last depth transition or point at the mouth of the cove. Typically this last piece of structure will hold fish until the last minute before the bulk of the fish head up to the nests. If you find fish, there will typically be a bunch in a small area. Bites can be subtle, and often come on the fall, so I always coach people to keep the rod up at about the 10 o'clock position and while keeping contact with the bait, to lift straight up to 12 o'clock very slowly. Constant contact with the bait is the key to using this rig properly at any time, but especially in the spring.
Finally, I use a jig and craw or jig and chunk. I use a smaller roundhead jig, that I bulk up up with a bigger skirt and a large craw or big chunk trailer. I fish this on heavier line, pitching it shallow, and dragging it back to the boat with short pulls. Unlike the with the lizard, I'll try to make contact with patches of weeds or wood cover with the jig, shaking the rod tip when I do. This is how I will catch my biggest fish each spring, but fair warning…it will cut into your numbers in favor of better (ie bigger) bites.
For smallmouth, I also won't target bedding fish, but I simplify my approach. Our local smallie lakes are very clear, so a little stain or wind can really make a difference. Unlike with largemouth, where it is "go big or go home,"  in my experience downsizing the tube or grub can really make a difference on early season smallmouth, and not only on numbers, but also on size of fish. I like 2-3″ tubes with a 1/16 oz head, or 3″ twister tail or 4″ inch hula grubs on an 1/8 oz mushroom head jig
I focus on transition areas along smaller points. A small rounded point with water with edges in 4-6′ of water but adjacent to 10-12′ will have fish holding either on top or along the shallow deep transitions. I'll hang back, and fan cast with the grub. If I make contact with more than one fish, or as is common with smallmouth, see more than one come up with the fish I have hooked, I'll make a pass over the structure with the grub, then I'll circle around and hit it again with the tube or hula grub.
I don't always fish spawning bass, but when I do it's all about the bluegill!! Since they are known bass egg eaters, I want a bass to think my lure is the most aggressive egg eating bluegill of all time. I rig my StankX NXT LVL SwankX Swimbait in Rad Gill color or a StankX Damzel onto a 1/8 to 1/4 oz round jig head. I want my bait to be nose down and active on the bed for as long as possible.
​If I feel the the bass are really chasing predators away far from the nest, I will change it up to a Biovex Amp Stay80 suspending jerkbait. It's small, casts quite far, and absolutely hangs where I want it to.
On a lake known for big fish and clear water I was having a hard time seeing them on the bed. The next day I brought the biggest jointed hard swim bait I own (14″). Those big females would come up off their deep beds to see what it was and I would watch where they would go back to and fish for them in a more conventional method. Ended up with twenty plus that day!
When it comes to spawning time the most important thing for me to be effective is I have to be able to figure out which stage of the spawn the majority of fish are in. Whether it is pre-spawn, spawn, or post-spawn, I fish accordingly. I will say however, I prefer for them to be on the shiny white spots!
I like to ignore the visible fish sometimes and fish big baits for staging females around the spawning areas. Swimbaits topwater, etc
My most unconventional approach to catch fish during the spawn actually occurred last season during pre-practice for BassFest. I had went down to Chickamauga in April to scout around for the upcoming event in June. When I arrived the bass were in full spawn mode, although some were still pre spawn and some post spawn a big wave had just moved up. I actually had a great day checking some places that they would be in the summer. I couldn't believe how many fish I was catching in the 25ft range that had either just spawned or hadn't moved up yet. Realistically no angler in their right mind would be fishing that deep during the major wave of the spawn, but I managed to catch close to 25lbs offshore. I almost think the grass that grows offshore on Chickamauga and many different lakes has something to do with that also.

What made that so unconventional is that the very next day I went sight fishing, just for fun. I managed to catch another 20+lbs catching them bedding on top of cinder blocks. Now there are not many times that you can catch 25lbs offshore and 20lbs sight fishing in the same week. I guess the most unusual part of this was the cinder blocks. If you found a cinder block in the water, there was a 4lb fish on it. They didn't want anything around their cinder blocks and if you even got a bait close, the bass would become extremely irritated and it wouldn't be long before you could catch her.
Wesley Strader – Facebook 
I can remember one time I was throwing a giant swim bait to draw fish off there beds. Then I would watch them swim back to locate the exact spot of there bed. The reason for this was they where spawning so deep they where pretty hard to see.
During the spawn you have to slow down. In lakes that have too much water color to see them, I have done really well using a lighter Carolina rigged Yamamoto lizard in and around shallow cover like bushes or docks. Most people think to flip shallow cover during the spawn, but fan casting around the cover with a Carolina rig or Senko works great too.
I'm not a big fan of fishing for visible spawning fish, due to conservation and public-image issues. Therefore, I try and target late pre spawners or early post spawners during this time. Not all bass spawn at the same time, and I've never fished an event where everyone caught spawning bass. Usually, what I look for, is spawning-type areas….flatter coves and bays protected from the wind. Depending upon the water visibility, I'll back off and throw a shaky head, Carolina-rig or football head jig in the 7-15 foot range. Many times, the bigger pre-spawners will hang out in this depth. Also, this is the same water the post spawners head for after they are done….so it's a pattern that will produce for nearly a month. This approach has allowed me to usually get a good check at the events where most of the anglers on the trolling motor "looking" for them.
Spencer Shuffield – Facebook
For me I'd have to say a swim jig or chatter bait if the water level is up tipped with a skinny dipper. I like bluegill colors. If not that then I either use a 3/32 ounce shaky head with a zoom trick worm or a wacky set up with a zoom trick worm. If all else fails I just sight fish for them!
Perfect weather conditions allow for sight fishing when it's spawn time (one of my favorite things to do), however that time of the year is known for its unpredictable and undesirable weather for sure. So I do have a few unconventional things that I've come to depend on over the years to "save the day". This "pre spawn" mode lasts a long time in our part of the country, especially when you mix smallmouth and largemouth, which most of our waters give you.

There are two triggers for these fish, super slow or super fast.

While most guys are throwing some sort of swimming soft plastic bait, which obviously work too, I'll stray away from the norm a little, something the fish have not been educated from.

And assuming the weather is bad, but fish are definitely pre spawn and spawning, I like looking for that reaction bite first. I will literally get in the spawning area, usually a bay, or a flat and literally cover tons of water, blind fan casting a crank bait that dives a tad deeper than the bottom, or the top of the grass. The Scatter Rap crank and DT 4 and 6 are unbeatable for this. I move the boat kind of slow so I can fan all the water in front of me, then move forward a little and do it again. I real the baits super fast and erratically. When I get a bite and in the spawn a lot of times they'll miss the first time, I smash my Power Poles down as fast as I can (an absolute must have during the spawn), knowing that fish bed in groups and then I go into "Stickbait Mode". For the crank baits, I like the brighter red and chartreuse colors for this approach especially. I'll also upsize the hooks one size.

Once I get a bite and find an area, thats when I switch to plan B, which is both a hard jerk bait and a Senko, and a much slower, more natural presentation. This is completely the other end of the spectrum. Usually a whacky rigged green pumpkin Senko, and a natural minnow colored or transparent Storm Twitch Stick are what I chose. Both baits I fish as slow as humanly possible and visualize the fish starting it down. One usually outshines the other, but you have to try both to find out which one from day to day.

As different as they two approaches are, the bites are also very contrasting: The strikes on the crank bait are generally violent, while the jerk bait and Senko takers are generally very soft.

So that is my one-two punch and is usually very effective in tougher, hard to see conditions. If it's super windy and choppy, maybe I'll just stick with crank baits and never settle down, it all depends on the exact conditions. So that's typically four rods on the deck on these days, because I'll always have a sight fishing bait out just incase I see one too!
Kim-Bain Moore – Facebook
I love throwing a Reaction Innovations Skinny Dipper – covering large areas of shallow water where bedding bass are holding.
Alternatively, I'll opt for a hollow bodied frog (swamp donkey) over the bass bed. It's an unconventional but successful technique to lure a big bass into striking. Just walk it in place to keep it in the strike zone & get ready!
One approach I've done that is out of the box is to actually get out of
the boat and walk the banks. The bass are usually spawning super shallow,
and you can sneak up to them easier from the bank. I'll walk the bank with
a drop shot rig and place it right in the bed.I have caught some awesome
fish that would normally be super skittish when you approach them from a
boat. It's out of the box, but you will be amazed how much easier it is to
get bedding bass to bite from the bank.
Philip Jarabeck – Facebook
There are times around the spawning season that I've seen some interesting things while fishing all across the country. But because every region is different in time of year and lake style, not all things apply to every lake in every region. One thing I've seen and experienced when fishing around the spawn is that there is almost always all three stages of spawners.
You will have the option of pre-spawn, spawn, and post-spawn fish to target at that time of year. There is usually a few separate waves of spawners in a lake spawn cycle. Depending on how early or late the spawn cycle is at each lake will determine whether there is a majority of fish in one particular stage or another.
For example, early spawn cycle there is the largest amount of the fish population that is still pre-spawn and day by day there will be more and more transition to spawn. Midspawn cycle you have even numbers of fish in a lake pre-spawn and spawn and day by day fish start to become post-spawn. By late spawn cycle, you have very few pre-spawn fish and about even spawn and post-spawn numbers of fish, but day by day the numbers grown toward post-spawn.
One tip is in the early lake spawn cycle, most pre-spawn fish are feeding and tend to be larger. When many anglers take to the bank sight fishing for the first new spawning arrivals, it can pay off big time to fish targeting the pre-spawn bass. Fishing areas just outside of spawning flats or fishing pre-spawn techniques like flipping cover, casting chatterbaits or spinnerbaits can produce big bags of bass.Also, depending on what kind of lake you are fishing, the floating worm can produce pre-spawn bites around spawning cover. The majority of anglers get caught up looking at the few spawning fish when the majority of the fish are just out of sight. Fishing baits like this behind sight fisherman near spawning areas has proven very successful for me.
Probably have to be that you can catch spawning bass by not accually having the ability to see the fish with your eyes. A lot of times I will bed fish just by going down the bank throwing at bank transitions or areas that should hold beds.
I remember fishing bedded bass in MN a few years ago. They just weren't hitting aggressive bed fishing techniques like lizards or tx rigged creatures. Something in me made be grab a small colorado rigged spinner bait.
I would cast far beyond the bed and burn it towards the bed. Then when it was close to the bass I would kill it and let it start to helicopter down. BOOM! Big Mama bass couldn't help herself, she would leave the bed and crush that spinner bait.
Kinda weird and totally a last ditch effort.
One unconventional technique I like using for spawning bass is actually downsizing the lure to get bass off the beds. Typically anglers are using heavy lines with jigs to catch spawning bass, but I find success with using 6 lb line and a 3 inch Jackall Cross Tail Shad on a drop shot rig with a very short leader. It's a bit unconventional to use light line for spawning bass but it seems to do the trick.
I believe that if you take the proper approach to fishing for spawners – mainly being stealthy, giving the fish plenty of room, and making precise casts, then you can typically coax spawners to bite.  But often, we get so fixated with fish that we can see, that we forget about transitioning fish.  Many times, i'll immediately move out to deeper water if bedders won't quite cooperate, or bigger fish aren't around. I particularly look for initial drops, funnels, edges of flats, and ditches.  There, I'll throw cranks, swimbaits, jigs, worms, and other offerings.  I'd rather gamble on a few big bites from fish I can't see then waste a day trying to catch small fish in plain view.  As a kayak fishing guide, I stress the importance of water temps and weather patterns in helping to make these decisions.
I do target bass from time-to-time, but most of spawn tactics are pretty traditional. Jigs w/ trailers, Texas-rigged plastics, and if the water is deep enough, drop-shots. I really like craw imitation baits.
I am also a believer that if you can get the male off the nest, you have a greater opportunity to get the big girls to eat. Other than that, I don't have much else.
Fish the exact opposite of the spawn. There are always fish on some sort of offshore structure. When the fish get up and start spawning, everyone before obsessed with them. In turn, this opens up a lot of places for yourself in pre and postspawn conditions.
I would have to say using light line finesse tactics when everyone else is throwing the norm. Big shallow spawning bass are very weary of their surroundings so the light tackle approach works great. My favorite is a weightless or nail weighted wacky rig 4-5″ finesse worm. It helps to know the surrounding cover and stay away from "danger zones" once that big fish is hooked!
I would throw a luck e strike live motion frog on 50 lb stern braid 7'3″ bass pro shops heavy carbon lite rode and 7 1 1 carbon lite reel. dont get too crazy that time of year
I guess standing up on the motor to get a better view would be my most unconventional approach! But if your asking about what I have used to catch them, I have caught them off a bed with a top water!
I would have to say fishing different top waters especially a wake bait in areas they are spawning. Most people don't realize how effective a top water is at catching spawning fish.
Drop shotting a 3″ bait- the Drop Craw
Fishing a trick worm on spinning tackle with1/32 ounce weight. Sometimes that slow subtle fall is deadly along with light line. I have caught some big bags of fish doing this and it's not what I'm known for doing. Generally Ive got a big flippin stick and heavy line catching them.
One of my best ways to score with spawning bass is to throw a reeling frog. Horny toad,Ribbit, etc. It allows me to cover huge amounts of water and gets vicious bites. Another plus to this is some fish may not bite the bait but will show themselves, allowing me to go after them with a slower technique.
I like to throw and hollow body frog or a Strike King Sexy Dawg. You won't get many spawning fish to hit the top water, but when you do it's going to be the biggest ones.
The most unconventional approach to catching spawning fish was using a Matt Lures bluegill swimbait. I would swim this around nesting areas or allow it to settle on the actual nest. The big fish would eat it up!
On the TN river it is fishing shallow and deep on offshore bars.
Get yourself a good pair of sunglasses.  Being able to see deeper beds that other might miss is key.  With shades, you get what you pay for, so get yourself a quality pair.  Makes all the difference in the World.  I helped design a pair for SPY with a great lens for fresh water, available here: https://www.krugerfarms.com/spy-optic-inchthe-gussyinch/EEP-0484.html
Although I'm not an advocate of bed fishing under tournament conditions, if the Bass are in full spawn mode and your not fishing that way, your not fishing to win. Through the years I have developed a few methods that help me find fish that are on full guard and ready to be caught. While searching I often throw a swim bait or swim jig far in front of the boat and retrieve it slowly over the depth I believe the fish are spawning in. The bait must be Brim colored or very bright.
Fish guarding the bed will often show themselves by knocking the bait away from the bed as it passes over or they will often just eat it!. By knocking the bait, the fish show themselves and their location allowing me to set up on them properly and usually catch them quickly. This technique works especially well in low light conditions.There are times when a Buzzbait or Ribbit type Frog will produce the same results. As the sun rises, I will cast a wacky rigged stick bait out in front of the boat or into slightly deeper water at a 45 degree angle to the bow of the boat. This approach has resulted in numerous big females that were holding off the beds.
I also like to move down the bank rather quickly. I know that any bass I may not have seen, that are spooked off the bed, will return. The rate of return is important! Those who return quickly
or are reluctant to move off or far from the bed are the catchable ones! Don't waste time on those you can't catch. Keep looking and you'll find plenty of cooperative fish!
Chad Morgenthaler – Facebook
Well I'm not going to give you my biggest one, because that is still a secret. In areas where I suspect spawning activity, but I am unable to see the bottom I have found that using a topwater bait such as the Orignal Lunker Lure Buzzbait, tipped with a Missile Shockwave swim bait allows me to be able to draw the fish into striking at the bait which will give me a very good indication of the very small area that the spawn is taking place in as well as getting close to seeing what size of fish are using the area. The trick to this setup is to make sure and cut the hook off. This way you don't accidently catch the fish which stress on the bedding fish and allows me to comeback very shortly thereafter and use a different technique to actually catch fish.
Mike McClelland – Facebook
Most people don't think baits like the Mcstick or Rock Crawlers will catch fish during the peak of the spawn, but if the baits are weighted to suspend over or on the beds, sometimes bass just can't resist them.
tweet