Geoff Stadnyk Born and raised in Carlsbad, California, Geoff's love of fishing dates back to early childhood.. Fond memories of family camping trips to Mammoth and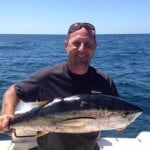 its surrounding lakes reveal the foundation of Geoff's writing. While he developed into a decent fly fisherman over the years, Geoff's time has been mainly spent fishing the offshore grounds of Southern California and down into Mexico. Geoff is a welcome addition to our writing team, bringing a knowledgeable yet enjoyable style to our articles and reviews.
Mark Smith has been fishing fishing as long as he could he can remember. First using a stick and old line he found laying on the shoreline of the lakes where he grew
up. Over the years learning to with fish all types of rods and reels. Going after many different  species of game fish along with Bass and Trout in the lakes and streams where he resides.