Question is, which are the best bass lures to use during the summer?
Bass are fish that many of us fishermen put it at the top of the fishing list. Its size, strength and cleverness are some characteristics that will definitely make your fishing trip adventurous. It goes without saying that you can go for bass fishing all year long.
Each season has different approach methods, due to the climate and water temperature change. Consequently, bass are directly affected by the climate. Thus, they have different nutritional habits and behavior.
Accordingly, each season mandates the use of various bass lures. After asking our audience and some bass experts, we came to the conclusion that many fishing friends have the same query.
Consequently, we decided to compile a detailed guide of summer's best bass lures, as summer is the best time of year for bass fishing.
A few words about bass and its behavior during the summer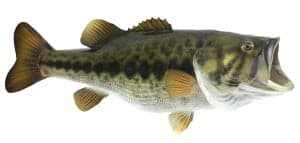 It is important to mention some basic information about the behavior of the fish during the summer, before we start analyzing the lures. When the summer season is at its height, extremely high temperatures scorch the country.
As a result, the waters become also warmer and it is a really good opportunity for bass fishing. However, the water temperature is not stable during these three months. Conversely, there are constant fluctuations.
Specifically, this happens during the first days of June and the last days of August. It is scientifically proven that cold weather makes bass lethargic. When temperatures rise, bass become more active and they start to hunt constantly for food.
Due to abrupt water temperature fluctuations, bass feel totally "confused and lost". Thus, they change their habits. For instance, from 1st June until 15 and 20th August till the end of summer, bass prefer colder waters like deep lakes and rivers.
During the remaining time span of summer, when the water is really hot, bass hunt very close to the water surface in shallow waters. They usually feed on small fish like minnows or shads which live in shoals during this period.
Furthermore, bass sometimes feed on crayfish, worms and leeches which also deserve a position in our list of the best bass bait for summer
.
Summer's Best Bass Lures: Best Choices
Since small fish are the basic food of bass, jerkbaits can be described as one of the "best bass lures" you can use. If you know the adage "match the hatch", you will surely understand that they are really efficient. They are realistic imitations of minnows or shads.
It is important to mention that jerkbaits have natural floatation and they look like wounded small fish. Obviously, this is an easy prey for bass so they strike like crazy.
If you are fishing in shallow waters, it would be a good idea to use floating (type) jerkbaits. They swim just 11 inches below the water surface. On the other hand, you can use sinking jerkbaits for deeper waters.
A very good selection, are "broken-back" jerkbaits. They consist of two parts connected with a small ring. The floatation and the slow retrieve will definitely wake up the bass hunting instincts.
Jerkbaits suitable for huge bass have the length of 2 in. up to 7in. and you can use them for all water conditions. However, after testing them we can ensure you that they work better in large lakes. Undoubtedly, they are one of the best summer bass lures as they have an action similar to real fish.
Tip:
It would be a good idea to use light color jerkbaits during daytime, because the reflecting flashes and light colors can be easily detected by the fish.
Obviously, the best fishing hours are dawn and dusk when bass prefer to hunt.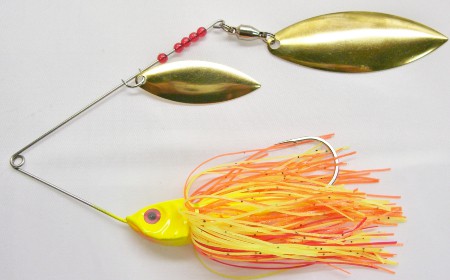 This special lure construction filled many bass anglers with exhilaration and huge trophy bass. Spinnerbaits are, in effect, a "dressed" hook with threads (usually rubber threads) connected with a thin wire on a flashy blade. While you retrieve your lure, the blade actually spins in the water and produces flash and vibrations.
In this case, there is no need to mention the spinnerbaits size. The only thing that you should take into consideration is the blade. If you are going to fish in murky waters it would be better to use a Colorado blade.
They are not so flashy but they produce strong vibrations. For clear waters like streams and tributaries, we would highly recommend the willow blade. They have a nice thin design and their movement will definitely attract bass, as they are visual feeders.
Tip: If you reel in fast, the lure will swim deeper. That is extremely efficient during the last days of summer. Spinnerbaits are considered to be one of the best fishing lures for bass.
If you search the market, you can find many colorful patterns. Emphasis should be laid on the fact that they are the best summer bass lures because they have an odd appearance. Bass are curious fish so they are easily attracted by spinnerbaits.
During those days, when temperature reaches high levels, bass prefer to hunt close to the water surface. Undoubtedly, there is no fisherman that has not seen a single bass to leap out of the water! Topwater are really good bass lures and there is a wide variety of them on the market.
There are poppers, lip-less (without a bib) or "walk the dog lures" which seem to be productive. If you run them on the water surface they produce great action. Consequently, they became very popular among the fishing community and many people describe them as the best bass baits for summer.
These buddies are the most characteristic fishing lures for bass, which are suitable in summer. Crankbaits are similar to jerkbaits because they imitate the appearance of real fish. Additionally, during summer, bass tend to be in shallow waters and they are basically feeding on minnows.
Crankbaits have a round belly with a slightly rounded lip. This construction allows them to approach the bottom where bass hide from the hot sunbeams. That is also the reason why they are the best bait for bass in summer
.
Tip:
You can use crankbaits with long lips for sandy bottoms. On the other hand, short lips are better for weedy waters with
lush vegetation
.
Final Thoughts: Keep Bass Fishing!
Finally, bass hunt like crazy during the summer and we fishermen should definitely not lose the opportunity to catch them. Certainly, summer is a good season to increasee your for a big trophy bass. If you follow our guidelines, you will definitely have success.
Moreover, you can pair your summer's best bass lures with a good spinning reel which definitely plays a significant role as far success is concerned. Please take a look at the reviews section. Nevertheless, the key of success is patience and good bass fishing mood!
Thank you for reading and if you like the article please share it or leave a message in the comment box.