Whether you're in pursuit of the next catch or the next catch is pursuing your lure, the Penn Pursuit 2 makes a formidable reel for such a chase. Anglers rave about the feather light feel of the Pursuit II. Its ultra fluid gear system puts similar reels to shame and an oil felt drag results in flawless line resistance. Though reels like the Abu Garcia Orra S come with more features, I still believe Penn builds a sturdier product.
Penn Pursuit 2 Saltwater Spinning Reel
The Pursuit II proudly displays its solid black color with silver trimming. A tough graphite frame helps reduce weight and repels corrosion better than aluminum material. Shielded stainless steel bearings contribute to marine protection much like the Shimano Sedona. Pursuit 2 reels come available to anglers in 5 different size models. You may notice a CP after some model numbers which stands for Clam Pack. These reels ship in a sealed package but all specs remain the same.
Penn Pursuit 2 – Models, Specifications, & Features
Models
Penn Pursuit II spinning reels start on the small end with the PURII3000 and move up to the PURII8000, the largest model. Here they are listed from smallest to largest:
• PURII3000     • PURII4000     • PURII5000     • PURII6000     • PURII8000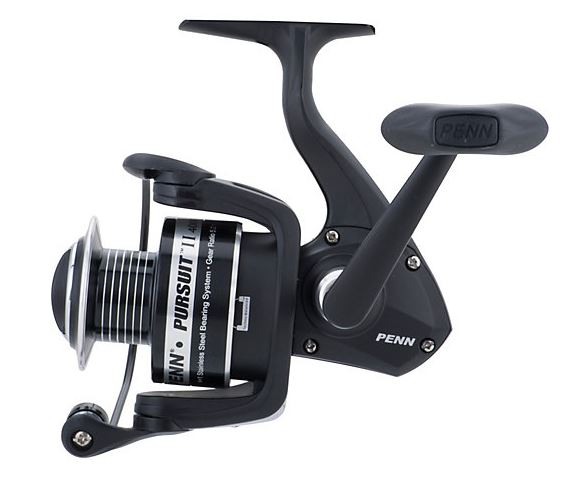 Penn Pursuit 2 Specifications
The Pursuit 2 features stay constant throughout all models. The same goes for the bearings which turn to a 4 + 1 anti reverse system. Model similarities end there and the differences pick up starting with gear ratio. Penn Pursuit 2 3000 and 4000 models have a relatively high gear ratio of 5.2:1 while the 5000 & Pursuit 6000 models drop to 4.6:1. The largest 8000 models spins even slower with a 4.3:1 gear ratio. Still not bad.
The lightest mono line a Pursuit II reel can hold (the 3000) spools on at 235 yards of 6 pound test. On the other end of the spectrum anglers get 260 yards of 30 pound mono which is the maximum capacity of the 8000 model. Drag resistance maxes out at 10 pounds in the 3000 model, 13 pounds in the 4000, 20 pounds in the 5000 & 6000, and finally 25 pounds in the 8000 model. That offers anglers plenty of pull for the size reel selected.
Key Features
Penn seems to put more effort into a stable design than packing all sorts of fancy features into their reels. That being said, Penn puts plenty of effort into staying up to date with current technologies. Have a look at the features Penn offers fishermen in Pursuit II spinning reels.
Anodized Aluminum Spool With Line Capacity Rings
The anodization process takes light weight aluminum and makes it hard as nails. Graphite material just doesn't work for a spool. Line capacity rings placed at regular intervals on the spool reveal the exact amount of line remaining on the spool. A feature that tells fishermen when to tighten the drag on a fish or when to add more line.
Oiled Felt Drag
Dry drag causes issues in performance which can easily lead to snapped line and lost fish. Penn uses a current oiled felt technology which keeps the drag lubricated. Dry drags tend to catch or stick especially upon first engagement. An oil felt drag helps prevent this kind of trouble.
Instant Anti Reverse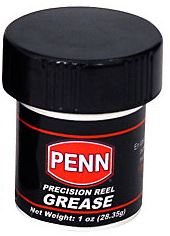 Fishermen often take the anti reverse function for granted, though not after they've encountered a faulty system. AR (anti-reverse) bearings perform two incredibly important functions for any reel. They prevent backplay which allows for immediate hook set and they must hold strong once the drag engages. Penn puts an advanced AR system into the Pursuit II spinning reel.
4 Shielded Stainless Steel Ball Bearings
Any company that manufactures saltwater reels makes a no brainer decision to use stainless steel bearings. Surprisingly, many fail to use shielded bearings. A bearing shield usually uses thin metal plating to cover the balls and entrap them inside the bearing. This greatly reduces wear by preventing the entrance of harmful gritty particles.
Review Wrap Up
Pros
Budget! Some reels aren't worth the graphite they're molded on. Not so with the Penn Pursuit II. This spinning reel works hard for every cent an angler spends which isn't much to begin with. Wallet clamps won't be necessary when fingering the trigger on a buying decision.
Durability! The main issues with graphite frames come as a result of improper care and storage. Keep the reel in moderate temperatures and out of direct sunlight. It'll last you for years.
Performance! Penn creates and manufactures top quality fishing reels. They've ironed out design issues over the years and know what works. The Pursuit II makes no exception and executes well under extreme pressure.
Cons
Five models to choose from gives anglers a decent range. It would be nice to see a smaller size model. Anglers that like the Pursuit II wouldn't be forced to turn to the Daiwa Legalis or other smaller reels for Bream or Bluegill fishing.
The oil felt used to lubricate the drag will run dry. This creates an issue when the rest of the reel works fine but still has to go in for service. Not every angler enjoys learning the art of reel repair and constant service calls do add up.
Verdict
The Penn Pursuit II offers fishermen an all around solid spinning reel that any budget can handle. Though not a 50 year reel, the Pursuit II will give years of hook ups through proper care and maintenance. The Pursuit II spinning reel covers a wide range of fishing styles including both fresh and saltwater. Right handed or left, it doesn't matter. Set the hook on the Penn Pursuit II and put it straight to use on the water.