We finally had a change to review arguably the top spinning reel in terms of quality
anglers expect from it and cost- Shimano Stella FI. Shimano proudly calls it their spinning reel flagship model. We on the other hand are confused and wondering could Stella match its 4-5 times more expensive price tag compared to another quality reel like CI4+ by bringing 4-5 times more performance and longevity to the table?
All of us only have good experiences with CI4+. We praised it in our review and top bass anglers agreed with us here. It is really hard to imagine what could top that, but we never can know before we try out. So let`s get it started.
Stella FI Models and Purpose
Like always we like to start out with listing all models to give all of you basic understanding and background why Shimano designed this reel:
2000 SFI
2500 FI
3000 HG FI
4000 XG FI
It is clear that Shimano Stella FI is not a offshore reel and is special Stella edition for freshwater or coast fishing. Stella has actually SWB product line out too and its models go all the way up to 30000, but start from 4000. SWB bigger versions are more like substitutes for heavy baitcasters , because casting is still possible with them. SWB versions are heavy offshore ocean fishing compatible.
Back to FI now. Gear ratios are increasing according to reel size from 5.1:1 up to 6.2:1. It has 13! bearings inside. Finally we review a spinning reel that could beat the number of bearings inside abu garcia revo. Although revo premier costs 1/4 of what Stella does. Drag power indicators are usual for finesse type spinning reel. 4000 maximum is 24.2 lbs.
What I like is that weight stays really low despite of all the features inside, it is ranging from 6-9 ounces, exactly like in stradic CI4+.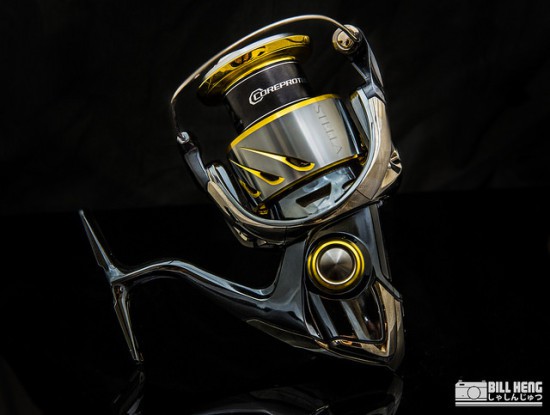 What Makes Stella FI Different
G-Free Body
Purpose of this body is to move the oscillation system from its usual place down below the drive gear to the more center of the reel. This will improve reel balance by bringing the reel weight closer to hands which will in turn eliminate any wobble during the retrieve.
MicroModule Gear System
Now the main and pinion gears will have micro-teeth on them that will improve gear alignment and put out more torque and power. Better contact with the lure and less vibrations are guaranteed.
Coreprotect
Extra water proof features and protection – I am sure inshore anglers will appreciate it.
S-Direct Drive System
Handle screws right into the drive gear improving power transfer and reducing the wear and tear on critical parts. In addition, new anti-reverse system which decreases friction and makes rotating the handle easier is included too.
Comparison With Similar Reels In Different Price Classes
Is Stella Worth It?
Right of the bat, I loved the colors and style of Shimano Stella. When looking at Shimano's own pictures online just does not do justice to how amazing this reel looks real life. Some anglers may state that a reels appearance does not matter to them however, I on the other hand know a lot of fishers who actually care about how their fishing reel looks and fits together. It can be a matter of personal preference and pride of owning such fantastic looking reel.
Going to performance aspect.  First thing I noticed is strange feeling like reel spins without no effort at all. Fishing seems to be much more natural and by that I mean casting, retrieving require almost no thought at all and eliminates the most of the usual problems that arise from time to time.
First time I honestly felt that that technology does not restrict my movements and intent. This reel does not put limitations on my abilities, but works like piece of my own body.
I do have to state that I loved my experience using this reel. However I am very avid angler. Other fishers who are not as big of an enthusiast or do not prioritize the performance experience a top-class spinning reel like this brings along, could be disappointed after leaving big chunk of money behind.
After all Shimano Stella is just a spinning reel and a tool to use.
It will not make you a pro angler after all.  If you do decide to buy this reel then also be prepared to get a appropriate rod . Investing in the whole package will just enhance the performance of a great spinning reel like Stella FI.
If you you are an avid experienced angler and spend most of your time in freshwater or inshore chasing bass and trout. Also you have some extra cash, I see no reason why the Shimano Stella would not be worth the buy. It delivers like you would expect from this world class reel.
Ending Words
Here I have given all of my thoughts and details about the flagship Shimano Stella. I will highly recommend this reel to all who can afford it. For sure, I will highly encourage you to check it out in your nearest tackle shop an at least give it a test drive. I can assure you won't be disappointed.
The handling qualities of the Stella are superb; the reel spins effortlessly at the lightest touch, and its "fishability" is excellent – Roger Sinclair